2019
Hadrians Way Cycle Ride
or
Senior Lads Biking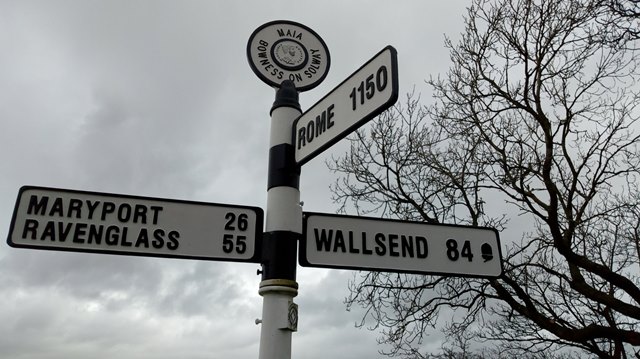 The starting point
It all started around breakfast at our local Wetherspoons. Peter was still working but Bob, Dave and Glen had recently taken early retirement from Nissan Sunderland.

To help keep fit they had all recently bought bikes and had been cycling around the railway paths in the locality. We had pushed the mileage up from 3 to 10 miles.
Around breakfast Glen was relaying the tales of when he had done the C2C and how great it had been. Somehow we all agreed to do a holiday ride together, I suggested the Hadrian's Way as a nice distance. As its 90 Mile I said we could do it in 2 days 45 a day. Eventually we agreed on 3 days with an average of 30 a day. As Peter is still working we picked a time in August when we could all go.
Two overnights booked deposits paid and part of the route driven to see how bad the hills were and it was suddenly very real.
We stepped up our training rides covering 20 miles or more but still mainly flat rides, We tried a hilly route and Glen decided he need to invest in a new bike.
New bike purchased Glen and I decided to test ride it. 1 mile into the ride, Glen got a puncture, hope that its not an omen for our holiday ride!!!
As August draws nearer we have all fitted puncture free tubes, All the bikes are performing well as are the riders, now we class 20 miles as an easy ride so looking good for August, just pray to the sun god as the scenery will be fantastic.
Now to get down to the logistics.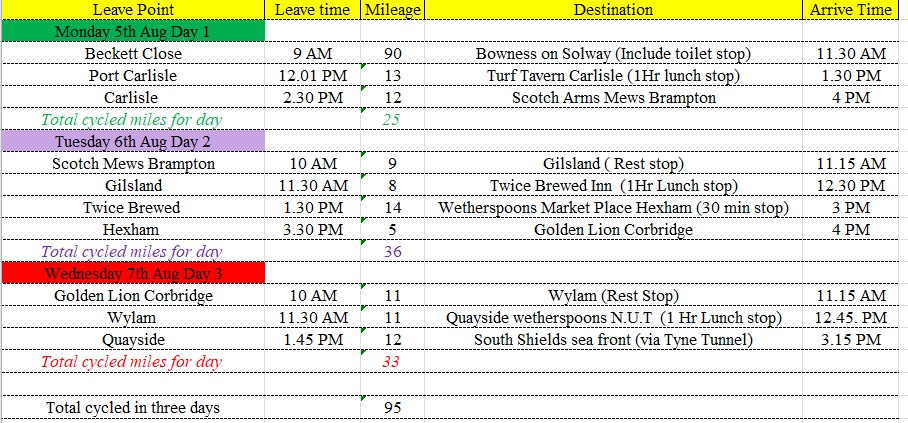 We all decided to have a last minute meeting on the Sunday at Wetherspoons to finalise logistics.
We had decided to hire a van to put the bikes and bags in, Ian had said he didn't want to cycle but would drive the van and enjoy the evenings with the group, and during the day would entertain himself doing the culture and tourism things along Hadrian's Wall.
Plans made over a drink and we were all set for the Monday.
© This site is copyrighted, Mal and the Multiday Men ©